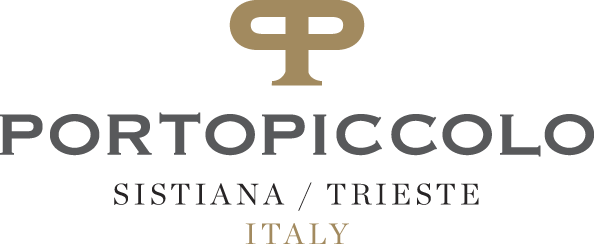 Portopiccolo: Enjoy Your Own Residence on the Adriatic Coast
In one of the most evocative places in the upper Adriatic, Portopiccolo is the new destination for those looking to experience novel emotions governing living. Luxury yachts and sailboats populate the spectacular Gulf of Trieste where the Adriatic Sea is at its clearest. A paradise of unspoilt nature among cliffs overhanging the sea and patches of Mediterranean vegetation. The comfort, privacy and luxury of exclusive residences, of various types but all overlooking the sea, with the serene and sophisticated union of modern architecture and traditional local materials. An impeccable service, boasting ever exclusive style, satisfies all needs. The pleasant energy of a village far from crowds and traffic, able to offer daily surprises and satisfy every wish. Complete Italian quality of hospitality, inimitable fusion of excellence and creativity, design, food and lifestyle. Portopiccolo also represents a project for avant-garde landscape redevelopment designed and developed whilst fully respecting the environment. It voluntarily joined forces with the Ministry of the Environment and Protection of the Land and Sea with the aim of reducing atmospheric emissions and neutralising environmental impact as well as embracing the use of renewable energy.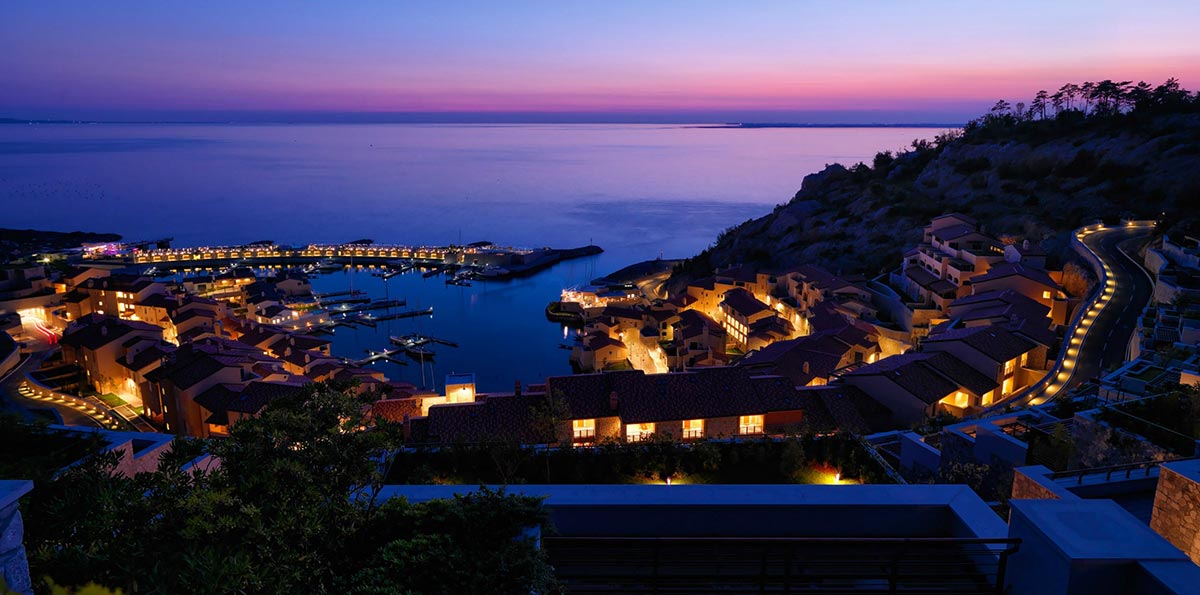 Main project features:
Newly built Italian eco-sustainable seaside village in the heart of the upper Adriatic
Amphiteatre shaped, south oriented with great sea views from each unit
Wide range of services / activities inside and outside of PP resort
454 luxury residences ranging from 50 m2 to 400 m2
Yacht Club & Marina w/121 yacht moorings
Five-Star Hotel
Spa
Conference Centre
Beach Club
Restaurants & Bars
Shops
Location:
Portopiccolo is located 10 km away from cosmopolitan Trieste and 130 km from Venice, one of the most beautiful cities in the world, and can be easily reached from all Italian, Central European and Eastern European locations. Trieste airport is only
15 minutes away by car and the junction of the A4 motorway is just 5 minutes away.
Access from Prague
By car 750 km (7-8 hours drive) via A10 motorway
By plane 60 minutes flight to Ljubljana (then 40 km drive) / or to Trieste via Munich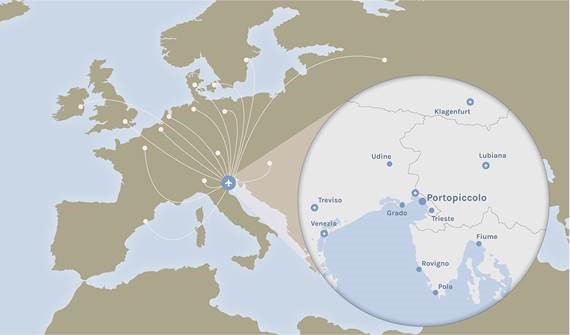 Facilities:
YACHT CLUB & MARINA
A short distance from Venice and the Croatian coasts, the Portopiccolo Marina is a safe mooring offering an impeccable service for all types of vessels. Its 121 berths are equipped with the latest equipment to meet the requirements and needs of every enthusiast. Member-only benefits and activities, with the chance to take part in prestigious international regattas.
BEACH CLUB
A fantastic private beach where you can enjoy the sea in an elegant, intimate atmosphere, the Portopiccolo Beach Club. Comfortable parasols, luxurious sunbeds, elegant cabins complete with all comforts and wireless optical fibre connection. Additionally, three pools, a beach food delivery service and concierge ready to satisfy all requirements – whether it's booking a reinvigorating treatment at the spa or a gourmet dinner at the restaurant.
SPA & FITNESS
Cleanse yourself of stress and toxins, restore your energy, plunge into a sea of relaxation, vitality and beauty – Portopiccolo Spa is an oasis of peace and wellbeing where you can regenerate in a sophisticated, exclusive atmosphere. Ranging from the Medical Spa to the Beauty Spa, a foray of skilful, modern purification, wellbeing and health techniques – for those who really like to look after themselves.
FIVE STAR HOTEL
On holiday, on business or simply to feel good – the Falisia Resort & Spa overlooking the delightful bay at the heart of Portopiccolo is the place where all guests can experience an unforgettable stay, 365 days a year. A "luxury collection" hotel with original personality, rooms and suites boasting sophisticated elegance and a service that leaves nothing to chance – a private beach with pool, gourmet restaurant, lounge bar, and direct access to the Medical Spa and health-conscious restaurant.
RESTAURANTS BARS & SHOPS
As in any small seaside town there are many boutiques and shops offering an irresistible choice of designer labels, top designers, sailing accessories and select home items, all found in the two shopping streets of Portopiccolo. The delicatessen, wine shop, ice-cream parlour, restaurants and bars offer a spectacle of flavours, scents and colours providing the best local and Italian specialities. Shopping in Portopiccolo is a constant surprise satisfying all tastes.
Exclusive services:
The pleasure of living in an extraordinary setting, the thrill of unspoilt nature on your doorstep, the advantage of being able to count on exclusive services and comforts that satisfy any desire and meet any requirement, at any time of the day and year. Portopiccolo is synonymous with quality of lifestyle in every detail.
Checkpoint - A security entrance active 24 hours a day welcomes guests and visitors, manages video surveillance with 81 CCTV cameras directly from a control room and car park logistics.
Maintenance - Continuous service dealing with cleaning, gardening and management of all systems in the shared, public areas. A facility management and housekeeping service is also available to the private individual.
Accessibility - The different levels of development are connected by inclined lifts facilitating movement inside Portopiccolo, making it easy and comfortable, and free of problems.
Resident Pool - At 60 metres above sea level with an infinity pool overlooking the splendid panorama of the bay, this is an absolutely unique space reserved for residents of Portopiccolo – ideal for organising unforgettable private events.
Concierge - An office always ready to satisfy the needs of owners and guests, ranging from booking a restaurant to organising transfers.
Underground car parks - There's no traffic, smog or noise in Portopiccolo but you can still get home by car. A system of underground car parks ensures direct access to the private residences. It is possible to park your car and get to your apartment using a covered and direct route.
Rental Program - The Rental Program system allows the owner of a home in Portopiccolo to enjoy their residence for their favourite period of the year, while producing an attractive income during the remaining months.
WiFi - The whole of the Portopiccolo area is covered by a wireless network, delivered by optical fibre. Internet access is rapid and easy whether you're at home or at the Beach Club.
Residential units:
CASE DEL BORGO
As found formerly in fishing villages overlooking the port, boasting pale colours and built using traditional local materials but with all the mod-cons and refinements, the Case del Borgo (Village Houses) make an ideal choice for living in a romantic yet, at the same time, elegant atmosphere. Strolling through the streets, shopping, savouring an aperitif in the square, enjoying the colours of sunset on the sea – a charming, small and exclusive world just outside your front door.
CASE A TERRAZZA
Set into the cliffs above the sea with the typical local stone and connected by handy lifts, the Case a Terrazza (Flat-roof houses) overlook Portopiccolo and other breathtaking views of the Gulf of Trieste. The wide terraces provide direct contact with nature while being surrounded by the latest comforts and technologies. A completely unique architectural creation in the Upper Adriatic that also pays great attention to interior details.
VILLE
The pieds dans l'eau villas of Portopiccolo are the most private and prestigious way of experiencing this extraordinary natural context, providing satisfaction with an absolutely exclusive domestic scenario. Right at the water's edge, with private swimming pools, caveau bateau with direct berth access, elegant gardens and patios lined with precious woods, aesthetics and excellence are taken to a whole new level in terms of architecture, finish, and space.
Want to know more? We're here to help!
For further information, please visit the dedicated web:
Or contact directly the Portopiccolo Czech Republic sales office:
This email address is being protected from spambots. You need JavaScript enabled to view it.
+420 725 860 300